Alta se Hoenderveloomblik
GGSA-TOER (16 – 21 Augustus 2015) deur Alta Jamison (neé Kruger)
So opgewonde was die Griekse grysaard, Archimedes (c. 287 BC – c. 212 BC) - 'n wiskundige, fisikus, sterrekundige, ingenieur en uitvinder - oor sy ontdekking, dat hy, volgens oorlewering, uit die bad gespring en poedelnakend in die strate van Syracuse in Sicilië (Italië) afgehol het terwyl hy aanhoudend skree 'Eureka, Eureka'! ('Ek het dit gevind!'). Wat het hy ontdek? Dat die volume van 'n objek met 'n onreëlmatige vorm gemeet kan word deur die verplasing van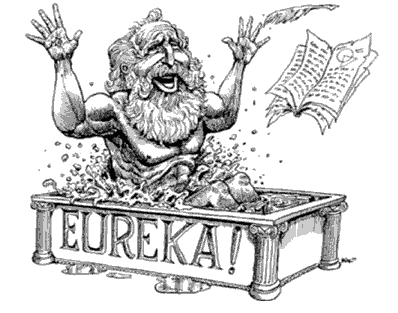 watervolume te meet, soos sy liggaam met die badwater gedoen het.
Met die GGSA-toer na Kaapstad (Kaapse Argief), Stellenbosch (GISA) en Franschhoek (Franse Hugenote Museum), het ek ook so 'n 'Eureka'-oomblik beleef; genadiglik sonder die kaal genaelery! My Coetzer-navorsing van die afgelope twee jaar het telkens in 'n doodloopstraat geeindig. Ek kon net nie 'n familielyn-konneksie maak tussen my paternale oupagrootjie, Wentzel Christoffel Coetzer (1886 – 1956) en die stamvader, Jacob Coetzer/Kutzer (1690 – 1742) nie. En daar in Stellenbosch ontdek ek die boek,Die Geskiedenis van die Coetser/Coetzer families in Suid-Afrika (1998) deur WJ Coetser. EUREKA!!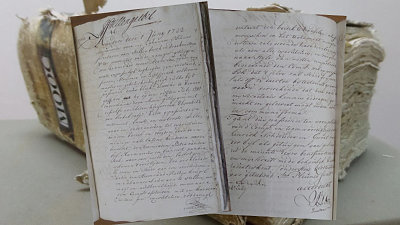 Hoenderveloomblikke in die Kaapse Argief! Om die 300-jaar oue dokumente van my voorvader Adam Tas (1668 – 1722) in my hande vas te hou, het my in hoendervel laat uitslaan, van my wange tot my kleintoontjies. Skoolgeskiedenis was so vervelig - het nie veel erg gehad aan Adam Tas en sy avonture in die Groot Gat nie. Ek het toe ook geen idee gehad dat ek eintlik een van sy afstammelinge is nie. Maar in daardie groot oomblik in die Argief, kon ek nie ophou streel oor die vergeelde papier van die laaste testament van hierdie besonderse stamvader van my nie. Ek is mal oor geskiedenis!
Kaapse Argief, Kaapstad Ek het intussen ontdek dat ek darem ook 'n spatsel Franse bloed in die are het – in al die gevalle het Hugenote dames ingetrou in my hoofsaaklik Duitse en Hollandse familielyne. In die Hugenote Museum se leeskamer was daar vele ah-haa!-oomlikke, maar daar was ook 'oh-noo!'-oomblikke met die besef:'So much to do, so little time!' Ek gaan 'n tweede lewe nodig hê! Die bestaande bronne in ons land is legio. Fantasties!
Ellen Harmse. Bo-baas toerleidster! Of soos in Engels gesê: 'The best tour guide EVER! 'Dankie Ellen, hierdie groentjie-genealoog se roonblaartjies begin so stadigaan 'n kleurtjie kry.
Aan al my toergenote – dankie vir julle vriendelikheid, kwinkslae, belangstelling, aanmoediging en advies. Ek is so bly ek het julle leer ken!

Foto deur Ellen Harmse & Dirk van Heerden
Finale dank:
"'n Pragtige deel is vir my afgemeet, ja, my erfenis is vir my mooi."
Psalm 16:6
(Die Blye Boodskap, 1975)