Cemetery Project
Written by unknown author.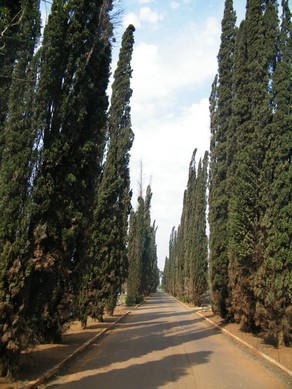 After much planning of and in spite of a lengthy preamble to a project of huge magnitude, seventeen members of the Northwest Province's GSSA acted on Santa's summons to convene at the Potchefstroom Cemetery on Saturday October 1, 2011. Distance proved no problem for members from Parys and Klerksdorp and project-enthusiast arrived at the Potchefstroom Cemetery at 8:30. Everyone came prepared and in good spirit, armed with cameras, extra batteries, memory cards, brushes, chalk, buckets, cloths and of course lots of drinking water. Since it is Potchefstroom, sun screen was applied in abundance and sun-hats worn from the get go.
A lot of planning went into the project and when discussions started on how the project should be approached, Peet Fourie took it upon himself to schematically plot the general lay-out of the cemetery. Although not practiced anymore, the deceased were previously laid to rest in pre-ordained sections, according church affiliation. Peet's graphical lay-out of the cemetery made it easy to allocate sections to the different teams. Sections were photographed in an ordered and systematic fashion to ensure that all the gravestones were included.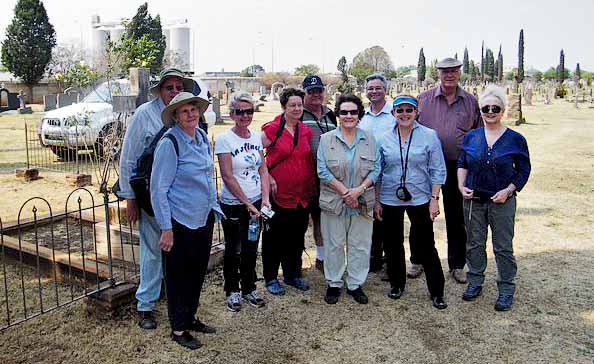 Pieter Potgieter was responsible for the valuable, yet extremely time-consuming task of photographing and digitally transcribing the Potchefstroom Cemetery Register. According to Pieter, the register consists of four books arranged in chronological order: Book 1 (1903 – 1954), Book 2 (1954 – 1983), Book 3 (1983 – 1999) and Book 4 (1999 to the present date). His study of the register indicated that up until 1940 the register recorded only the date on which the diseased was laid to rest. In the years following 1940, the date on which a person passed away was also included. Pieter indicated that identity numbers were included in the register's recordings since 1980, making it possible to obtain date of birth for a diseased. He does not want to speculate on the actual number of people laid to rest in the cemetery, but offer his digital transcriptions to researchers to draw their own conclusions. Since it is of utmost importance to include all the graves, his work can be used as a baseline and checkpoint once the Potchefstroom Cemetery photographs are uploaded and cataloguing on the national cemetery database takes place.
A few rookies got initia
ted into the ways of the province's GSSA, and although the surroundings were quite peaceful, many members felt relieved that it was a day-time project. Those who visited loved-ones might have wondered about the "strange people in hats", but members were not deterred in their duties. Knowledge that epigraphy is used as a scientific method to conduct historical research and the value it has for genealogical research, spurred members on although moments of sadness were felt when photographing the graves of for instance babies or entire families that met violent death in accidents.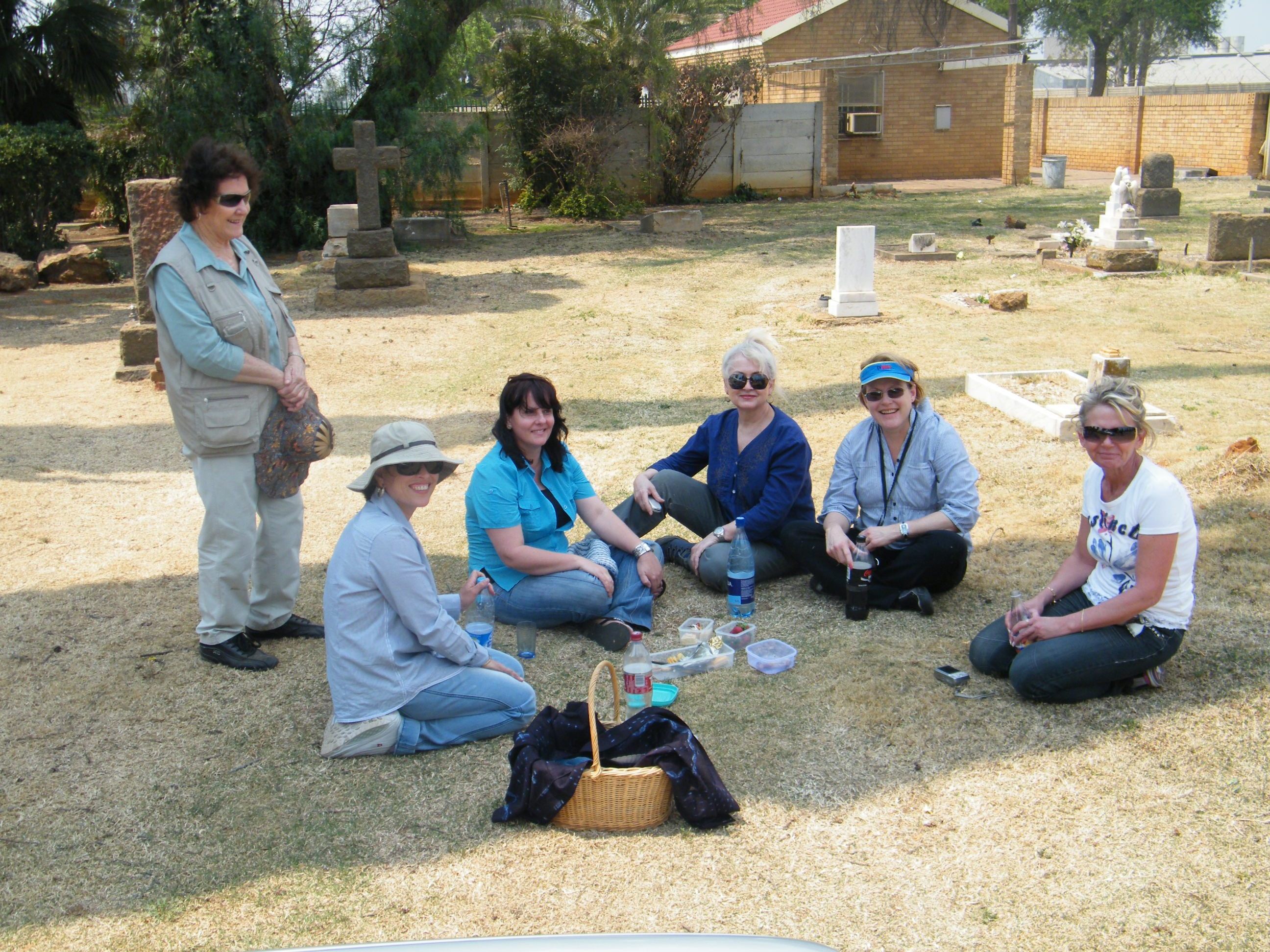 For the photographers is was not a day of all work and no play, and although the day started quite cool, the temperature kept on rising as the day progressed and a formal break brought much relieve to tired feet and parched throats. In true genealogical fashion, the ladies chose a spot near the entrance where a few "lang boompies" provided a little bit of shade, close to the final resting place of some of the sisters of St. Mary's. The photograph shows the ladies relaxing and hospitably sharing in a picnic.
Work however started in earnest again soon and members chose new sections to photograph. To ensure that members made most of the available time, full memory cards were downloaded on a central computer for processing at a later date. Nothing could dampen the spirits of the team and Simon had to threaten members to compel them to stop.
The day eventually ended with members jokingly speculating on who took the most photos and who "worked" the most. It was a good day, not only project-wise, but for making friends and getting to know those who share similar interest, better. More than 5 500 photos were taken and the project is definitely off to a flying start. The members will re-convene again in April 2012 for phase 2 of the project.