2019 Branch Meetings and Outings
January: We started off our year with our AGM. This year we had a big change with Nico Muller being voted in as our Vice-Chairman taking over from Sampie Orton who filled the role with great enthusiasm and dedication. We kept Sampie in an advisory position as his years of experience are invaluable. Kobie Stroh has taken over as the Storiewa editor. We have an enthusiastic team who are always willing to help and get stuck in when the work needs to get done.
BRANCH COMMITTEE MEMBERS 2019
From the Left: Sampie Orton, Nico Müller, Wilma Jansen van Vuuren, Kobie Ströh, Germaine Smith, Cathy Potgieter & Hendrik (Pottie) Potgieter
BRANCH MEMBERS 2019
Back from the left – Nico Müller, Sampie Orton, Stefan Jansen van Vuuren, Wolfie Spalek, Derick Vorster, Gys Ströh, Hendrik (Pottie) Potgieter, Geramine Smith , Johan Naude, Piet de Coning
Front from the left - Anet Lingenfelder, Wilma Jansen van Vuuren, Engela Spaleck, Kobie Ströh, Cathy Potgieter, Elmari Jacobs, Wilna van den Berg, Alta Jacobs (absent members not in the photos - Joan van Ellewee & Casper van Wyk – new member Jaco Cilliers)
February: Year planning braai
This year we decided that each member should have an input in what we do for the year and instead of just a meeting we had a bring and braai. We all discussed what we wanted to achieve for the year and what we were going to do to see this happen. It was a fun filled day and everyone who attended had their points heard and so the year plan was set up.
March: "Begrafniesbriefies" Training
It was decided that every member of the branch would transcribe 100 "Begrafniesbriefies" to help Wilma with her back log. These were given to us on a flash drive and were given a crash course by Wilma. Our deadline to hand this back to her was then end of July 2019.
April: Archive Tour Training
Wilma Janse van Vuuren gave us a hands-on course of what to expect when going to the archives. How to prepare for the trip and what one can expect to find. We are planning this trip later this year.
May: Vanderbijlpark Cemetery Photographing Project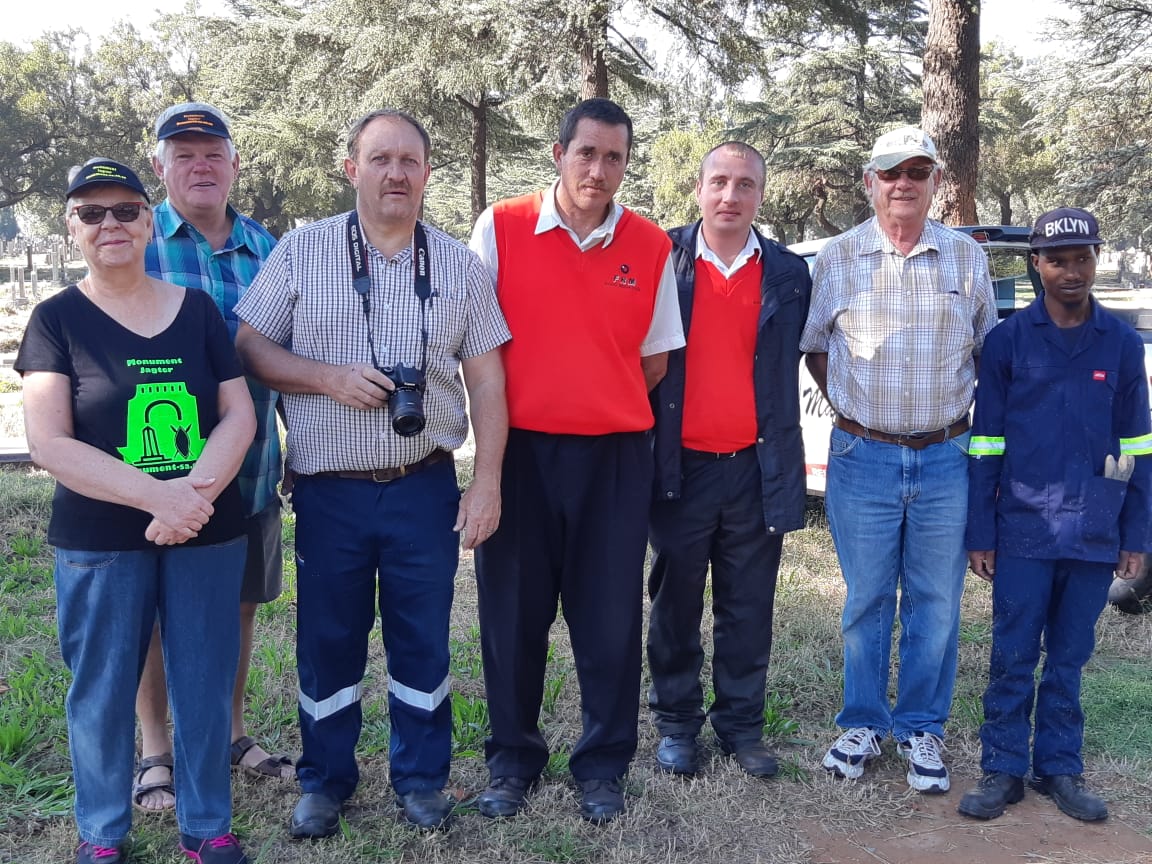 We decided to tackle yet another cemetery this year and picked Vanderbijlpark as our target. 6 Members started on the 4th May 2019 and took a total of 3157 photographs.
May: Potchefstroom Museum Tour with Johan Wolfaardt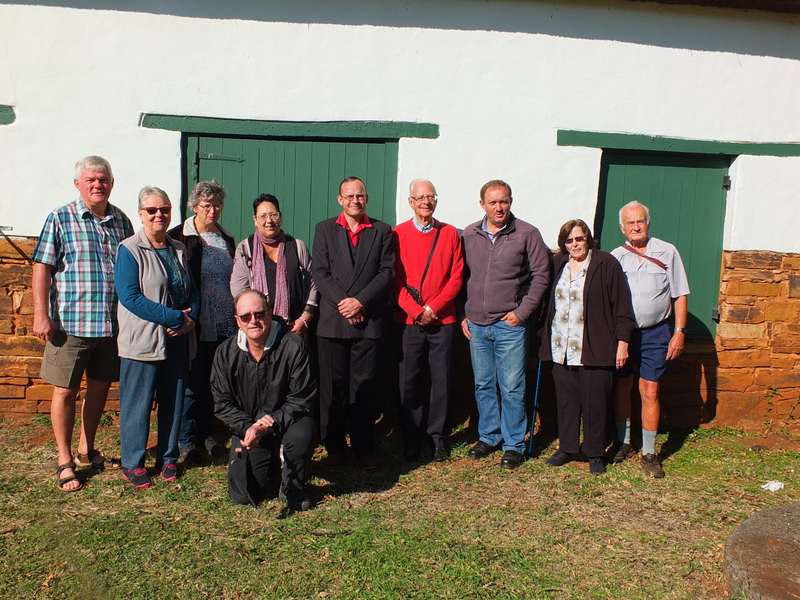 We start our day at the President Pretorius Museum, then Totius House & the Gereformeerde Kerk Museum. From there Molen street (Voortrekker cemetery, watermills, War Memorial), then a short stop by Ds Van Der Hoff Church. It is always a treat to meet up with Johan Wolfaardt – his enthusiasm and his knowledge of our country's history is really remarkable. A treat for the day was a friend of Johan Wolfaardt, Professor Hennie Coetzee who invited us to join him and his lovely wife Kato at their beautiful home in Potchefstroom for tea. A tour through his home was a remarkable experience, a collection of antiques few people will ever see.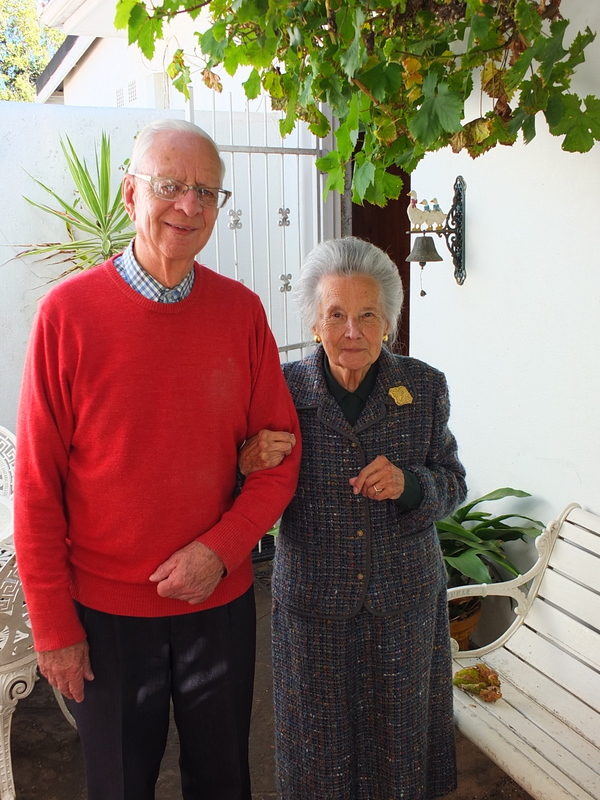 Professor Hennie Coetzee & his wife Kato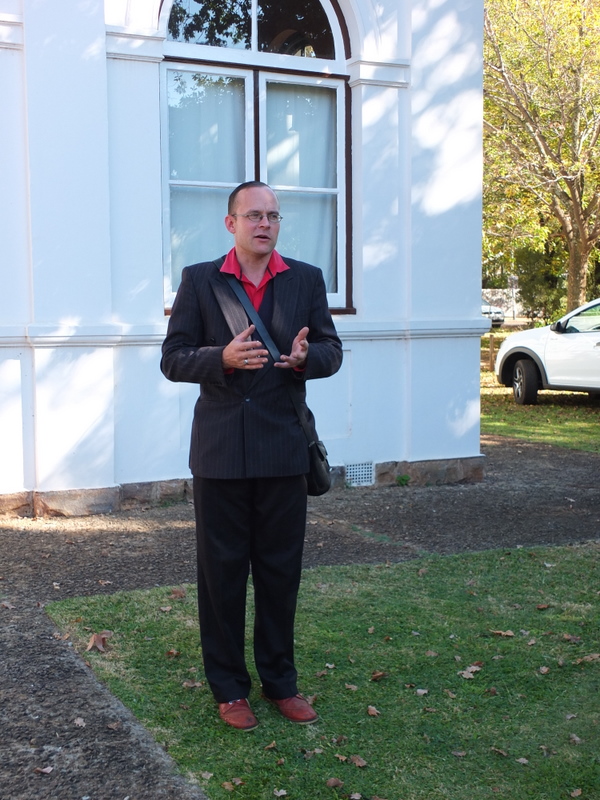 Johan Wolfaardt
June 1 Vrede van Vereeniging Wreath Laying
GSSA Vaal and the Voortrekkers got together on the 1 June 2019 to lay wreaths at the Vereeniging Concentration Camp to commemorate the signing of the Peace Treaty of Vereeniging that brought an end to the ABW. This went well beyond our expectation when more than 50 people arrived. The "Voortrekkertjies" all laid flowers on the graves and we made the local news!

June: Military Records with Dewald Nel
Our first guest speaker for the year was Dewald Nel and a specialist in Military and Police records and an avid collector of all things militaria. Dewald came recommended to me when I was looking for the war records of my great grandfather and great uncles who fought in both WWI and WWII. Dewald has both a B.Com (Law) and an LLB degree obtained from the University of Pretoria. Whilst completing his articles, he studied at the University of the Witwatersrand, completing an H.Dip (Tax) in 2005. Following articles, he spent some time practising as an admitted attorney and then later working for one of the remaining big four accounting firms as a tax consultant. From early childhood he had a fascination for all things military and currently he collects all medals awarded to recipients with the surname Nel or Nell. His collection spans the period from the South African War of 1877 – 1879, to the Border War. Medals present an interesting insight or slant to genealogy, as most South African medals are personalized with either the details of the recipient on it, or a serial number which can normally be traced to a single recipient. In 2009 his hobby became his career and he has been trading in militaria and doing military medal research full time since then.
July: How to decipher Unindexed Civil Records
Germaine gave an in-depth presentation on how to go about searching the unindexed records on Family Search and how to use the various links available on FACEBOOK. These records cover mainly the Civil registrations. She also showed them how to access the many useful tutorials that have been made by Mathew Bode (Facebook Genealogist) giving guidelines on how to access and use the different tools available to us all.
27 July: Continuation of the Vanderbijlpark Cemetery Photographing Project
This was our second session of photographing. We had 7 members and one guest to continue this massive task. But for the few people I think we have done an enormous amount of work already. The red block indicating our fist photographing session: With a total of 3157 Photographs being taken. The green block indicating our second photographing session With a total of 3228 Photographs being taken.We hope to complete this project by the end of the year.
Alta Jacobs, Germaine Smith, Meshak Nketsing, Stefan Janse Van Vuuren,

Nico Muller, Piet de Coning, Kobie Stroh, Jacob de Coning & Gys Stroh