Western Cape Branch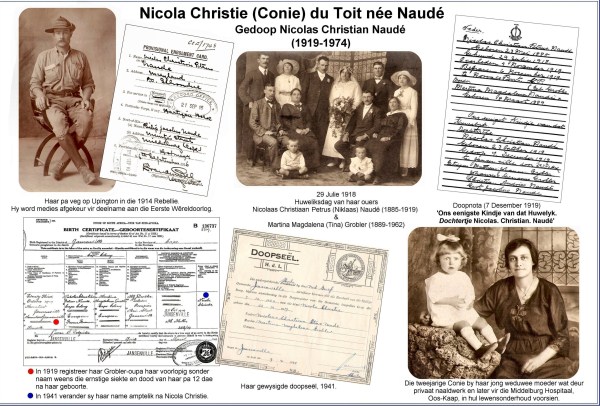 Seated in Cape Town, a city regarded by some as very laid-back, the Western Cape branch is a busy and active group.
The branch meets every second Saturday of the month in Goodwood. We serve the whole of the Western Cape. We have several members who regularly travel from places such as Worcester and Velddrif to attend meetings.
Members who cannot attend meetings are kept up to date with regular emails and a newsletter. We also have a quarterly publication Capensis where members can publish their research or articles of genealogical interest. Members and other interested parties can also follow us on Facebook.
The branch works very closely with other organizations such as the Drakenstein Heemkring, the Cape Archives, GISA and local museums. We have several ongoing projects, the most active being the Exhibition team. They go out in the community to present workshops to budding genealogists. They have traveled as far as Oudthoorn to do this. This team, together with the Cemetery team received awards in 2011 for work they do. ( see article below).
An exciting new project was recently launched. We are calling this our Heritage Project. This project focuses on folk in retirement homes. The residents are encouraged to preserve their genealogical heritage for the next generations and they are also assisted with tracing their own family trees.
Some of our members have also launched new books or digital publications (cd's) this year, among others Hennie Genis has published his book: Evert Genis en sy nasate 1850-2010.
This is a branch that continues to grow, not only in membership, but also in projects, publications and activities.

Postal address: P.O. Box 4674, Tyger Valley, 7536
18 September 2013

Click on images to enlarge
January
The branch's Annual General Meeting took place in January as usual. After 5 years, Mariana Olivier stepped down as member of the management committee as well as Sergeant-at-Arms. She is staying on as co-ordinator of the Exhibitions team and as Facebook editor. Marilyn Coetzee takes over from her on the management committee and Marilyn's husband, Joseph, is our new Sergeant-at-Arms. Left to Right: Marilyn Coetzee (Projects), Anton Verwey (Projects) Paul le Roux (Treasurer), Simone Kay (Notices & Newsletter), Engela van Dyk (Secretary), David de Klerk (Vice-chair) & Andrew Kok (Chairman).

Februarie
Taklid Helene Lombard was ons spreker tydens die Februarie takvergadering. Sy het ons meer vertel van haar famielid Jan Hendrik "Onze Jan" Hofmeyr. Hoewel Onze Jan haar oupa se neef was, het sy nie veel geweet van hom nie. Toe sy egter sy versameling poskaarte erf, het dit haar aangespoor om meer uit te vind. Gedurende sy oorsese reise het Onze Jan poskaarte versamel van die plekke wat hy besoek het en die datum van sy besoek daarop aangeteken. Een van die poskaarte met die datum van sy besoek daarop aangeteken: In Junie 1901 besoek hy Mainz. Gedurende sy leeftyd was hy in verskillende hoedanighede 'n kampvegter vir die behoud van die Nederlandse taal, Afrikaner kultuur en die belange van die Afrikaner boere. Foto: Standbeeld op Kerkplein, Kaapstad. In 1920 is 'n standbeeld van hom op Kerkplein, Kaapstad opgerig met die woorde 'Is het ons ernst?' Hierdie woorde kom uit 'n toespraak wat hy in 1905 in Stellenbosch gelewer het waar hy erken het dat die hoog geroemde gelykheid in tale in die Kaap 'n fiksie was wat nie bestaan nie en daar opgehou moet word om die goewerment en ander daarvoor te blameer. Hy het gevra wat ons persoonlike bydraes is en of ons ook glo dat net Engels vir die toekoms nodig is. Is ons ernstig oor die behoud van ons taal? – 'Is het ons ernst?' Foto: Jan Hendrik Hofmeyr. Onze Jan begin sy skoolopleiding by Tot Nut van't Algemeen wat in 1804 in Kaapstad gestig is. Dit was die eerste Nederlandsmedium skool in reaksie op die anglisering van Kaapse skole. Gedurende sy leeftyd was hy in verskillende hoedanighede 'n kampvegter vir die behoud van die Nederlandse taal, Afrikaner kultuur en die belange van die Afrikaner boere
March

Our guest speaker in March was Roché Petersen, a student in History and Information science at the University of Stellenbosch. He spoke on the lesser known concentration camp at Uitenhage which was used from April to October 1902. Emily Hobhouse and Millicent Fawcett highlighted the dire conditions of concentration camps and pressurised the British Government to something to improve matters. As result, new concentration camps were opened. Foto: Millicent Fawcett During April 1902 the first inhabitants, mainly from the Bethulie and Vredefortweg camps, were transferred here. (more information on concentration camps at :http://www.lib.uct.ac.za/mss/bccd) Only 9 people died at this camp. Photo: Uitenhage Concentration camp (undated). The monument at the Uitenhage camp was unveiled on 10 October 1972. It consists of 9 stones, each bearing the name of one of the nine deceased on the outer ring and nine pillars in the centre.
Uitstappie

Ons eerste uitstappie vir die jaar was na die Hugenote museum in Franschhoek vir 'n gesamentlike byeenkoms van ons tak en die Hugenote Vereniging van Suid-Afrika om die 325ste jaar van die Hugenote in Suid-Afrika te herdenk. Eerste op die dag se program was die onthulling van die nuwe sonwyser wat die gesteelde geelkoper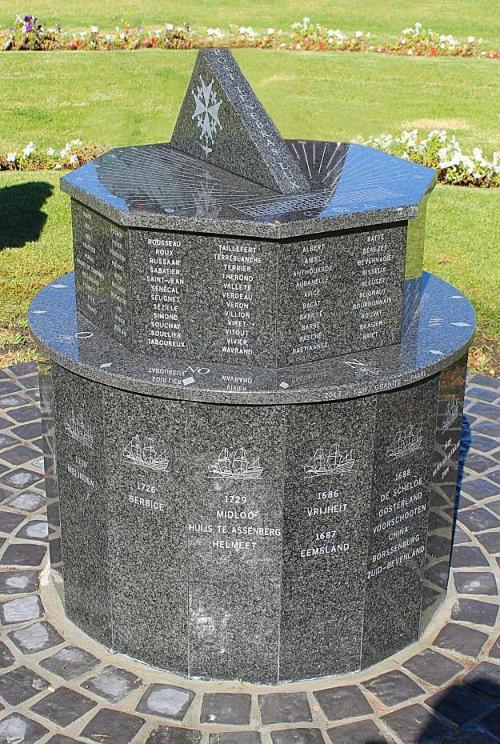 een vervang.>
Foto: Die boonste kolom, wat op 'n skeepskompas rus, bevat die vanne van die Hugenote wat na die Kaap toe gekom het en die onderste kolom die name van die skepe waarmee hulle hierheen gereis het.


Vandaar is ons eers na die die restaurant by die Hugenote Gedenkmuseum waar ons trakteer is. Daar was ook geleentheid vir navorsing asook 'n plakkaatuitstalling. Foto: Hugenote 1; Foto: Hugenote 2; Foto: Hugenote 3. Vanaf die sonwyser is ons eers na die die restaurant by die Hugenote Gedenkmuseum waar ons trakteer is. En vandaar na die uitstalling in die anneks van die museum. Die Hugenote Gedenkmuseum se bydrae oor I D du Plessis. Tussen al die aktiwiteite deur was daar ook nog tyd vir navorsing in die leeskamer van die anneks. Wes-Kaaplede van links na regs: Kosie Coqui, David de Klerk en Henk Rall. En om die dag mee af te sluit, het ons bymekaar gekom om na praatjies oor die Hugenote te luister. Met 'n spreekbeurt van 15 minute elk het die 7 sprekers gewoema om hul sê gesê te kry. Collage Van links na regs: Martie du Toit, Paul le Roux, Dennis Malan, David de Klerk; Christo Viljoen, Biebie van der Merwe en Andrew Kok.

Exhibition
Our first exhibition of the year was on 20 April at Kleinplasie, Worcester as part of the Wocesterfees. It was a very busy day as the photo above shows. We were lucky to have David de Klerk there to assist the regular members of the team. It was noticeable how many younger members of the public came to show their interest. Photo: David de Klerk with some of the younger visitors.
Van 3-4 Mei was dit tyd vir die Hartlamfees te Hartenbosch. Hierdie was 'n gesamentlike uitstalling tussen eGGSA, Suid-Kaap en Wes-Kaap. Foto Hartenbosch. Foto: As daar nie plek is om plakkate op te sit nie, span ons sommer 'n wasgoedlyn en hang dit daaraan. The annual Archives week at the Cape Archives in Roeland Street was from 6 to 10 May. The Western Cape Branch was on hand again to assist visitors and we also organised the poster exhibition.

Photos: The exhibition team busy dealing with enquiries. Some of the posters on exhibit. Photo Span. Photo Poster 2. Photo Poster 1; Archive week 2; Archive week 3; Archive week 4; A visitor from far afield: Deborah Wilson from Lincoln in the UK. Jaco van der Merwe held two workshops on family research and everyone attending received packages with a pot-pourri of genealogical information. At the end of each workshop there was a lucky draw – the prizes: CD's/DVD's donated by the GSSA.
Mei
Ons gasspreker tydens die Mei vergadering was Isak Bosman, outeur van die Bosman boek. Sy praatjie het gehandel oor die ontwikkeling van die boek. Isak het reeds op 16-jarige ouderdom begin belangstel om navorsing te doen toe hy na foto's van sy oorlede oupa gekyk het. Die vorige Bosman boek was ook vir hom 'n insprasie, maar dit was verouderd en daar was baie duplikasie. Dit het hom laat besluit om 'n nuwe boek daar te stel.
Foto: Die Familie Bosman in Suid-Afrika, 300 jaar, waarvoor Isak in 2011 die D.F. du Toit Malherbe prys vir genealogiese navorsing ontvang het van die Suid-Afrikaanse Akamdemie vir Wetenskap en Kuns. Sedert 1980 word hierdie prys elke drie jaar toegeken aan uitstaande genealogiese publikasies.
Hy neem ons deur die hele proses vanaf navorsingsbronne tot by druk en verspreiding, met baie goeie raad vir beide beginners en gesoute navorsers, asook vir diegene wat hul navorsing wil publiseer.
Foto: Isak Bosman
Al ons lede kon nie die gala geleentheid in Krugersdorp bywoon nie en hul toekennings is tydens ons maandbyeenkoms van 11 Mei 2013 aan hulle oorhandig. Foto: Toekennings.
Foto: vlnr: Sasa Malan (Meriete-eGGSA Passasierslys Transkripsie Projek), Mariana Olivier (Ekstra Myl-Landurige Diens), Johann Janse van Rensburg (Meriete-Besonderse diens aan die NUK), David de Klerk (Ekstra Myl-Landurige Diens & Genealoog van die Jaar), André van Wyk (Meriete-eGGSA Passasierslys Transkripsie Projek) & Elmien Wood (Meriete-Besonderse diens aan die NUK.
June
It Is tradition to celebrate our birhthday in June with a Bring & Brag. Branch members get the opportunity to show off their treasures and heirlooms. Photo: Marilyn Coetzee shows some of the items she inherited from her grandmother. Photo Dirk van Rooyen had quite a number of items on display, among them this bottle that was used to feed his dad as an infant. Photo: Sasa Malan Brought this little apparatus which was used to treat croup. Photo Shirley du Plessis showed some of her grandfather's medals. Photo: Loraine van der Westhuizen (right) brought her book: 'Van Uitspan tot Rusplek. De Rust aftree-oord: 'n historiese baken in Durbanville' which was published last year. With her is Senobia Lutz.Photo: Simone Kay found this lovely old Bible through the Eastern Cape mailing list in a bookshop in Johannesburg. The Bible belonged to the Liebetrau progenitor, Johan Lorentz Liebetrau born 28.12.1772 at Frankfort am Main. Some of the inscriptions in the Bible even shows his children's time of birth eg: 'Hendrik Godfried Liebetrau Born den 15 Meÿ 1825. Op Zondag middag te 3 Uren.' Photo: Librarian Rini Scheffler was so chuffed with all donations to the branch library that she decided to brag.