Click on the image to enlarge
On Saturday 22 August 2015, the South East Witwatersrand Family History Society started with the photographing of the headstones in the Primrose Cemetery, Germiston.
The Society has been a staunch supporter of the GSSA Cemetery Recording project for the past 25 years, and their small group of recorders have so far submitted over 65,000 headstone records for the DVD and nearly 40,000 headstone photos for eGSSA Photo Project. In 2003 they recorded the headstones for Primrose and submitted over 18,000 names for the DVD. Recently they decided to build on that experience and ensure that the heritage inherent in the Cemetery was preserved even more securely by photographing the headstones. To celebrate the occasion a live TV interview at Primrose was arranged with Theresa Taylor of eNCA by Jane O'Connor, an avid cemetery recording member of the Society.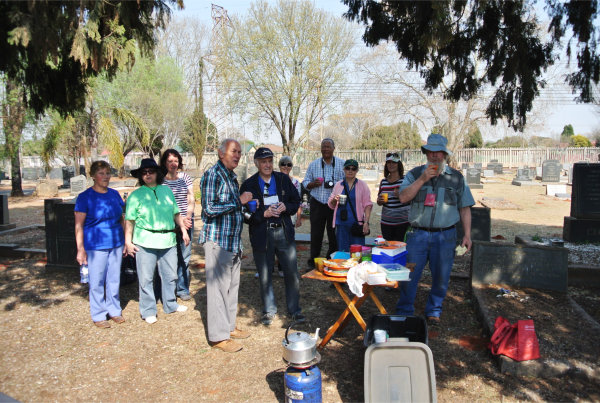 The group photo shows the recording team enjoying a well-earned tea break during the morning. They will be meeting at the cemetery once a month, and expect to complete the project by August 2016. The project is led by Ken Mutch, the Cemetery Convenor of the SEWFHS (in centre of photo): if anyone is interested in joining the group, please contact Ken at This email address is being protected from spambots. You need JavaScript enabled to view it..
The GSSA wishes the group every success, and thanks the SEWFHS for their continuing support.
Click on the link below to see a video clip shown on the eNCA news network on 2 August. Permission to include this video clip was granted by Theresa Taylor of eNCA
http://www.enca.com/media/video/cemetery-recording-project-documenting-sas-graveyards