AMSTERDAM SE STADSARGIEF
Rentia Landman (Klik op die Foto om te vergroot)
Die meeste van ons stamvaders het via Amsterdam na die Kaap gekom en daarom is die stadsargief van Amsterdam vir ons in Suid-Afrika 'n skat van inligting. Dit is egter nie nodig om duisende rande te bestee om die argief persoonlik te besoek of om iemand te betaal om dit vir jou te doen nie. Byna alle basies data is gedigitaliseer en op internet beskikbaar. Daarby is die soektogstelsel van die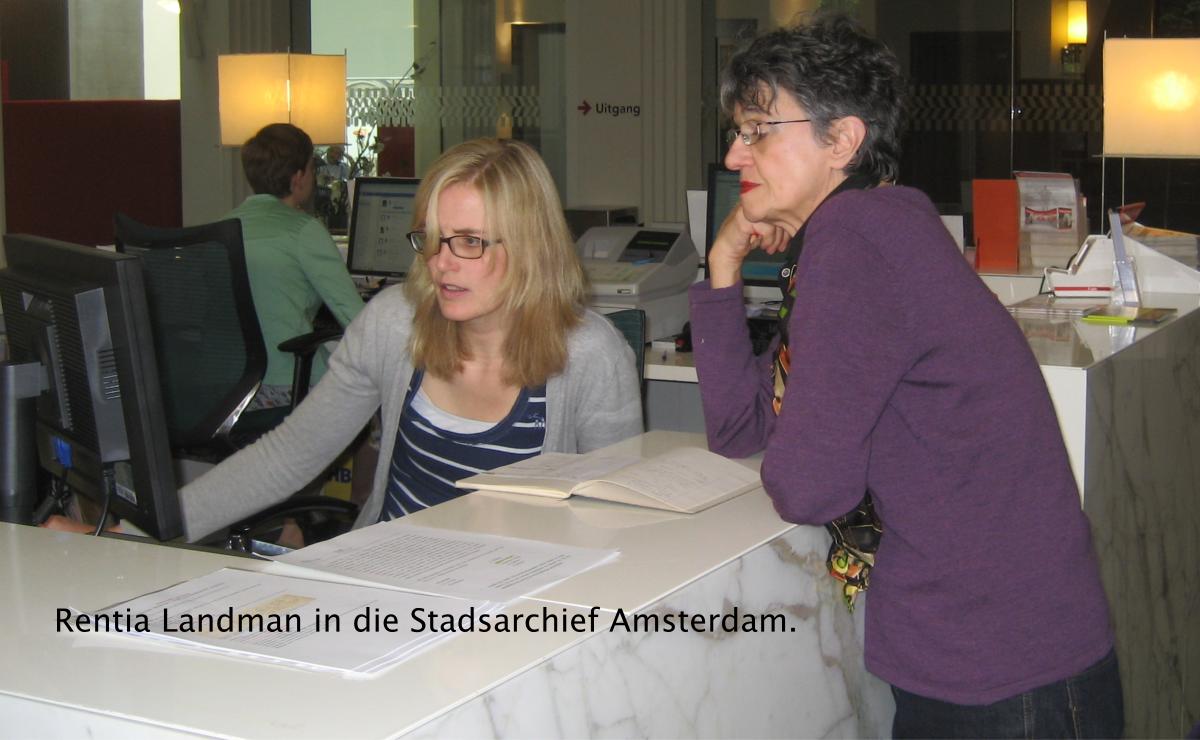 Amsterdamse stadsargief baie gebruikersvriendelik en net 'n plesier om te gebruik.
Rentia Landman in die Stadsargief van Amsterdam in die hoop om nog iets oor die Landman's te vind wat sy nie reeds op die argief webwerf in haar eie studeerkamer kon vind nie.
1. Gaan in op http://stadsarchief.amsterdam.nl/
2. Daar is 'n taalkeuse tussen Engels en Nederlands, maar die Engels bied beperkte keuses aan. Hou liefs by die Nederlands.
3. Kyk heel regs kom 'n groot rooi blok op. Klik op Genealogische zoeksystemen
4. Dan kom daar weer op die regterkant 'n langwerpige rooi blok op met die verskillende versamelings. Begin met die volgende:
Begraafregisters voor 1811
Doopregisters
Ondertrouwregisters

5. Klik op een daarvan. Dan gaan 'n ruimte oop waarin jy die agternaam (=van) en voornaam van 'n persoon kan invul. Klik die blokkie vir ongeveer om voorsiening te maak vir variasies in spelling.
Links hiervan is gekleurde blokkies om die soektog te verfyn met ekstra inligting nl persoon, datum, locatie (plek) en ander. Wenk: Moet nie die pa se van beskou as ook dié van 'n kind nie. Laat die blokkie liewers oop. Gebruik die pa se van eerder by die gekleurde blokkie as vader.
Vul die inligting in wat jy het en outomaties sal 'n lys name en datums verskyn.
6. Klik op die rooi blokkie wat sê Toon resultaat.
Klik dan op die naam wat pers word en skuif die aanwyspyltjie bo-oor die klein foto'tjie tot by die getikte inligting, maar moet nie op die foto'tjie gaan staan nie. As dit inligting is wat vir jou van belang is, blok, kopieer en gaan plak dit waar jy dit wil. Tot dusver is alles gratis.
7. As jy 'n digitale foto van 'n oorspronklike bladsy wil hê, kos dit geld maar dit is die moeite werd want soms is daar ekstra inligting in soos die getuies by die huwelik of doop, asook die beroep van die man, waar hy en die bruid gewoon het en die name van hulle ouers. Die huweliksinskrywings, veral het interessante inligting.
Klik op die klein foto'tjie en dan gaan die betaalbladsy oop. Hulle jou vra om eers te registreer met jou e-posadres en 'n gebruiksnaam waarna 'n wagwoord binne sekondes per e-pos gestuur word.
In die derde blokkie van bo, kan jy die aantal krediete wat jy wil koop, invul. Die krediete staan bekend as "Scantegoed". Dit is goedkoper om 'n hele aantal met een slag te koop. So byvoorbeeld kos 10 "Scantegoed" 7 Euro (=R91) terwyl 5 Scantegoed 4.88 Euro kos (= R63). Die krediete bly vir een jaar geldig en mens gebruik slegs een krediet per aflaai.
Kies betaal per internet en dan volgende en weer volgende.
Kies Master card of Visa en volg die gewone prosedure vir kredietkaart betalings.
8. Klik Ja by Betalen met Scantegoed en dan gaan die digitale foto van die betrokke bladsy oop.
9. Kyk heel regs onder en klik op Downloads
10. Dan regs bo en klik op Nu voorbereiden
11. Kies dan lager of hoge resolutie afhangende die kapasiteit van jou internettoegang
12. Nadat die digitale foto afgelaai is, moet jy dit bêre (save).
Geniet dit!